This is the first in a new series that will be delving into the minds of those who have made their creative dreams a reality!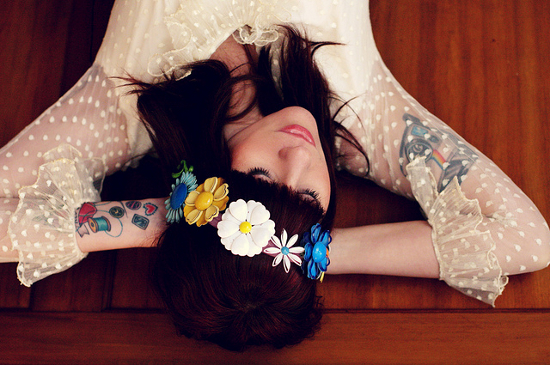 Elsie Flannigan is the woman behind the blog A Beautiful Mess, as well as part of the team who run Red Velvet, which is both an online and B&M shop in Missouri.
Can you take us on the journey of your creative career path so far? I know it's already quite an eventful story…
The first creative business I ever owned was a photography business, Emma and I photographed weddings and took senior pictures, that sort of thing. I have always loved taking pictures.
After that I got into scrap booking and got the chance to design my own line of products as well as publish two books. I also got to travel quite a bit and teach small classes. That was a lot of fun and I met so many kind people.
It was around that time that I started blogging, which is still a part of my business today. I like to paint and illustrate, and this spring I've just launched my very first vintage inspired dress line!
You've already had a number of different creative careers, and you're not even 30! Do you believe you've finally found your 'thing' – or do you think your creative direction will continue to change in the future?
Hmm… I think I've always sort of had a "thing" or certain style. But I like to keep up with trends and I am (hopefully) an ever evolving person myself. So all my creative efforts probably seem like they are always changing a lot, but to me it's all just a part of what I do, it's all a part of Red Velvet.
Could you ever see yourself having a 'normal' 9-5 job? Why/why not?
In a way I do, I know that's probably hard to believe but owning a shop that has set hours is a great thing for me. It keeps me on a schedule, which I sometimes desperately need in order to get anything done. Ha! But I understand what you probably mean by a "normal" job… I probably would be pretty bad at that. Oh dear.
What has been your most successful marketing strategy – the best way that you have found to get you and your work noticed? And have you ever tried something that just did not work at all?
For me the best thing has always been my blog. I have been lucky to have so many wonderful opportunities come my way because of my blog. And you will just have to trust me when I say that YES I have tried many things that did not work!
That's just part of the process, of course its frustrating and I don't always share all my failures with the world because… well, it's not something anyone should dwell on. But if you never fail at anything my guess would be that you are either the luckiest person ever or you are not trying very big things. I hope that doesn't sound offensive, I actually mean it to be encouraging.
How did you decide when to involve other people in your business – and what their roles would be?
Red Velvet has always been a group of us (always me, Rachel and Emma and more recently Holly). And that's because Red Velvet hasn't always been a business, it didn't really start that way even though that is a big part of it now. We all have our own roles based on where our talents lie and what we are interested in.
Have there been times when nothing seemed to be going right for your biz? Do you have any advice for those in a similar situation?
I guess I sort of covered this during my "we all fail sometimes" speech above. Ha! There have been plenty of times things didn't seem to be going right with the business, and I expect there will be a few more times like that in the future. Keep it in perspective, lean on those who love and support you, and never stop believing in yourself.
You obviously have a wicked sense of style – how did that evolve – what/who were your influences?
I LOVE fashion. And I am obviously a huge fan of vintage styles.
I am influenced by 1950s and 60s domestic life, Mad Men, The Virgin Suicides and old photo albums of my parents from the 70s.
I love how beautiful these decades were and they totally inspire much of my ideas and likes in fashion.
Do you have any particular character traits that you believe have been instrumental in your success?
I am quite obsessive. That serves me well as a business owner. Although it probably drives Mr. Larson a little nuts sometimes.  Just kidding!
Visit Elsie's blog and follow her on Twitter.